Facial Aesthetics
at Langley Dental
Anti-wrinkle treatment in Langley
Anti-wrinkle treatments at Langley Dental are carried out by our experienced clinician.
The treatment involves a natural protein which acts upon nerve endings and lessens their action on related muscles. Used cosmetically, this reduces the strength of face muscles which cause tell-tale lines.
Common areas to be treated are frown lines, bunny lines, horizontal lines across the forehead, lip lines, drooping eyebrows, neck lines and banding. Or a combination to suit personal needs.
By tailoring treatment to the individual and using precise dosage, a more natural look can be achieved. The visible effects of ageing, or other causes, reduced.
Book your appointment for Facial Aesthetics
The facial areas for anti-ageing treatment in Langley Dental
No two people are the same, in looks, skin tone, texture, or needs. We mapped out areas to indicate where anti-wrinkle injections helps, your treatment will be for you.
Anti-wrinkle treatment has a remarkable effect on areas we treat, although taking your overall looks into account is important. To create a clear and natural appearance.
This is why you should not consider the areas of your face we mentioned as target zones. Our approach is always to think of the wider picture.
Subtle use is focused on the view you have in a mirror and others see. We aim to provide the natural look and aesthetic balance you want.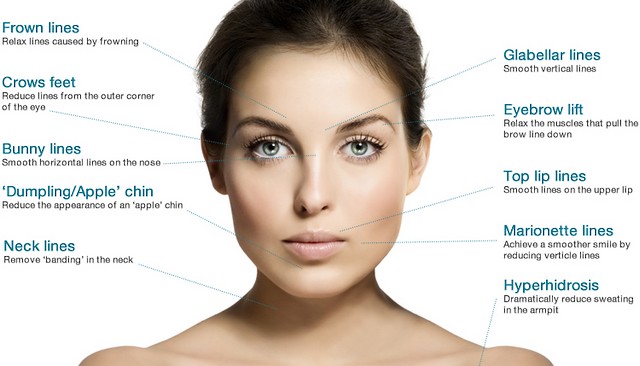 The cost of anti-aging treatments
A professional consultation is the best way to begin cosmetic treatment, for safety and to establish the cost.
Below gives you a guide to likely costs. As with all Dentalcare fees, we try to keep these as low as we can, without compromising quality.
| Treatment | Fees |
| --- | --- |
| 1 area | £150 |
| 2 area | £200 |
| 3 area | £250 |
Is Botox treatment safe?
Anti-wrinkle treatment has been used for a long time to treat conditions such as cerebral palsy and for two decades cosmetically.
Allergic reaction and muscular side effects have been reported but are rare. Anti wrinkle injections at Langley are injected with a fine needle, under controlled conditions.
There is little discomfort. Precautions we advise are to avoid alcohol for a week prior to treatment and anti-inflammatory medicine, or aspirin, for two weeks.
How long does anti-wrinkle treatment last?
The treatment generally takes three to seven days to show full benefit, but the effects then last up to about six months. 
A top up treatment is perfectly normal and as safe as the first treatment.
Is treatment suitable for everyone?
There can be exceptional reasons where an anti-wrinkle treatments wouldn't suit but this is unusual. We try to make treatment available as widely as we possibly can.
Age, or skin tone are not a barrier to treatment and rarely conflicts with other cosmetic needs. Often the opposite, a complement to caring for yourself.
Orthodontic Fees
At Langley Dental, we treat every patient as individuals, therefore each treatment plan is completely bespoke.
Finance
We offer finance options because we believe everyone should be able to benefit from high-quality dental care.
Before & After
We are often told by our patients that the dental treatments we have provided has dramatically improved their quality of life.